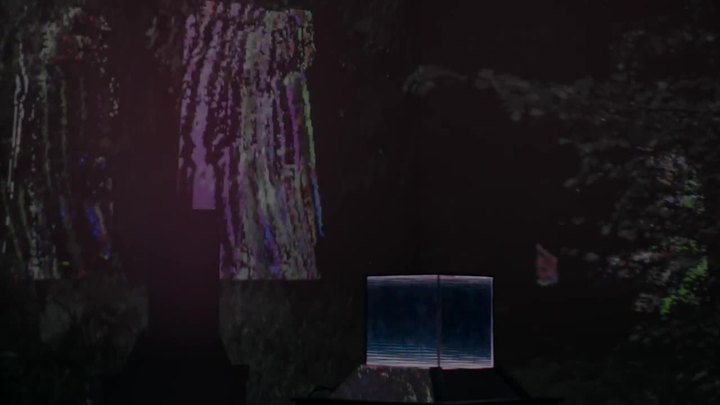 About
You Can't Put Your Arms Around a Memory (after D.B., 2020), is a multiprojector audio/visual installation that combines live camera feeds of spectators, who follow their increasingly abstracted silhouettes around the walls of the room, layered projections of nature scenery, and a real-time ticker from news services such as the BBC and Al-Jazeera. In the center of the room is a mirrored "infinity cube" that contains another live infrared camera—as spectators approach, the camera picks up their image and combines it with the other moving images on the walls. Taken in total, the installation asks viewers to wrestle with the ways individuals are mediated through time via technology—through registers of surveillance, the time of the natural world, and the temporal tensions found between the immediacy of one's image on the walls and an awareness of events simultaneously unfolding around the globe.
The a/v elements are built and controlled via the Max Jitter software platform. They can be operated automatically or modified in real-time by the artists.The "infinity cube" is constructed from custom-built two-way semi-opaque glass. The cube rests on a four-foot plywood plinth that houses all of the a/v hardware (laptop, cameras, cords). The cube contains a motion sensor and another live infrared camera. Stereo speakers play ambient loops based that generate new combinations the longer they play.
The artwork was inspired by pioneering video artist Dara Birnbaum's now-lost Rio VideoWall (1989), and represents the artists' attempt to design and prototype a VideoWall, reimagined with 21st century technology. Birnbaum's VideoWall was the first multi-screen video artwork to be installed in a public setting in the United States. It employed twenty-five identical 27" video monitors, stacked in a five-by-five grid, powered by two LaserDisc players and custom software. But the VideoWall was not only noteworthy for its technological innovation; it was also significant for the site that served as its inspiration and eventual home: The Rio Shopping Complex, a mall the Old Fourth Ward. Combining scenes of the site's natural landscape from before the mall's construction with an unedited live-stream of CNN footage, all filtered through the moving silhouettes of mall patrons in real time, the VideoWall presciently interlaced a number of ideas that continue to resonate in the 21st century, including the 24-hour media cycle, surveillance culture, the legacy of segregation, the effects of gentrification, and the Anthropocene.
The title of the piece is taken from Johnny Thunder's (ex-New York Dolls) 1978 single of the same name. Thunder himself took the title from a line in the "Better Living Through TV" episode of the sitcom The Honeymooners.